About the company
The main activity of LLС «NPP «Neftekhimia» - production of polypropylene. LLС «NPP «Neftekhimia» is a joint venture of JSC Gazprom Neft-MOR "and PJSC" SIBUR Holding ".
Let the target enterprise products - polypropylene, obtained by polymerization of propylene in the presence of complex organometallic catalysts in the liquid monomer, marked by the registered trademarks «SIBEX» ® and «Rispol» ®
General Designer of the complex - the company "TCM" (Italy). The reference design is made to the offsite facilities design institute "VNIPIneft" (Russia).
The design capacity of the complex for the production of polypropylene - 150,000 tons of granulated of polypropylene per year.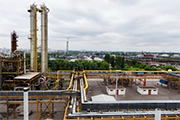 Address: 109429, Moscow, Kapotnya,1,13
Tel.:
+7 (495) 287-34-33 +7 (495) 995-14-68
HR: ext. 6043